Puzzles
Värmland
Artist

Unknown

Originally published

1946

Size

48 x 67 cm

Product Code

PUZ-5090
In stock
About the artwork
"Ack, Värmland, du sköna, du härliga land,
du krona bland Svea rikes länder!
Och komme jag än mitt i det förlovade land,
till Värmland jag ändå återvänder."
Värmlandssången är det många som känner till. Denna svenska sång är baserad på en traditionell folkmelodi och har framförts i många tappningar sedan den kom til 1822. Men när affischkonstnären ska locka turister är det snarare den uråldriga Klarälven som dånar in med full kraft – trettio mil otämjd flod på svenska sidan. Klarälven var den sista svenska älven med flottning, vilken upphörde så sent som 1911.
I övrigt erbjöd Värmland samma sak då som nu, en oförvanskad natur med vila djur – vilket de första björnjägarna från England kunde vittna om. Även Astrid Lindgren faktiskt, som sa sig ha fått visionen om Nangijala en krispig vintermorgon längs Fryksdalsbanan.
About the product
Our travel posters have now been turned into 1,000 piece puzzles! Choose your favourite among eight different motifs and build up Sweden – piece by piece!
Made in Finland
Manufactured by Tactic
Other products based on this artwork
Värmland
1946
Poster 30 x 40 cm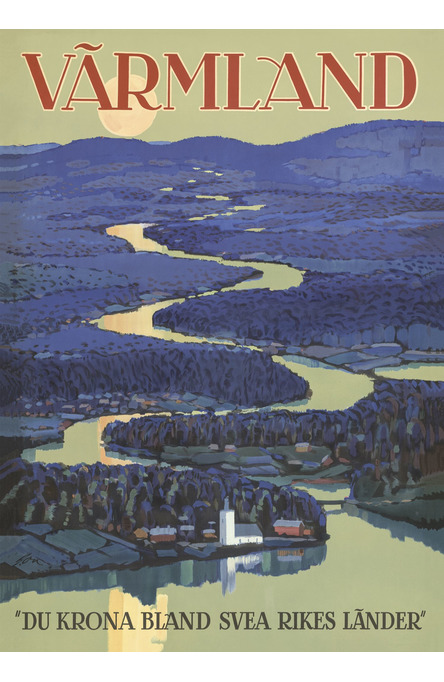 Värmland
1946
Poster 21 x 30 cm
Värmland
1946
Postcards