Poster 50 x 70 cm
Fisherman in Jämtland
Artist

Unknown

Originally published

1950

Size

50 x 70 cm

Product Code

P-M-5036
In stock
About the artwork
Jämtland is mostly pictured as a paradise for wintersport, and that's why it's truly refreshing to have a poster showing the beauty of this provenice during the summer. It really looks harmonius and idyllic, doesn't it? In the background you can see the lake and the old church of Åre.
The artist behind this poster is unknown to us, but if you know anything about the artist or the poster we would love to hear about it! Please contact us at posters@cometosweden.se.
About the product
This vintage travel poster with the Fisherman in Jämtland belongs to our Custom Print series. That means we will print it individually for you!
We use the latest printing technique, and that's why we can guarantee that the luminosity and fullness of the colour scheme are outstanding. As a result, the colors will last for generations. And we only print on high-quality FSC-certified matte paper.
We will deliver the poster to you in our stylish Come to Sweden poster tube.
Other products based on this artwork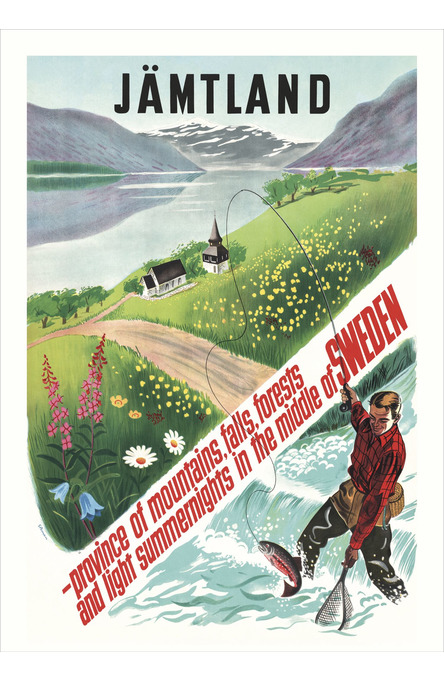 Fisherman in Jämtland
1950
Poster 21 x 30 cm
Fisherman in Jämtland
1950
Poster 30 x 40 cm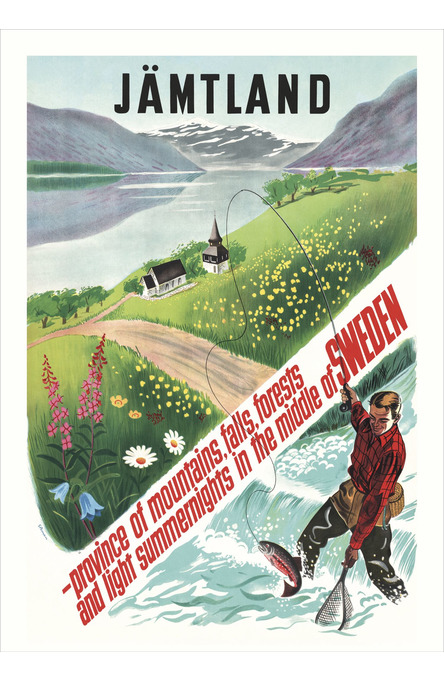 Fisherman in Jämtland
1950
Postcards